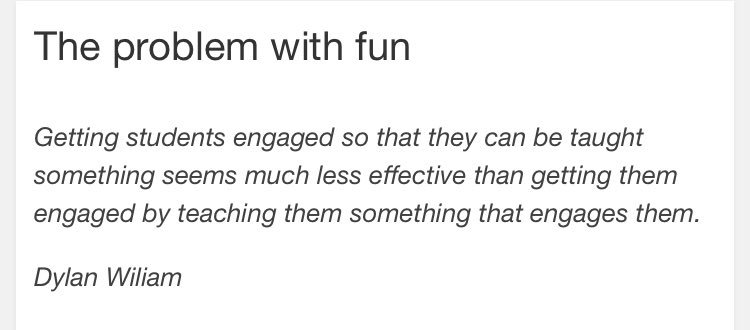 This quote says to me the content matters, is more effective than the attempts to first engage through a potentially fun activity.
And a tweet I liked a lot from @MissSayers1
I was thinking about fun and how it can be a distraction for children in a lesson. Should we design activities that are fun? I don't want to design dour, misery-making activities so fun of some sort must matter. But where should it come in our list of planning priorities?
Here is my ordered list:
Plan for –
The requirements of the content. Different content may need a different type of activity.
The learning needs of children. What they already know and how this fits with the 'new' stuff.
A context that focuses on the learning content.
The resources. I could always have full experiments using large volumes of expensive chemicals. Is that best for learning?
Curiosity. If I can get children curious I am on to a winner.
Interest. Can they relate to the work we are going to learn? I use to relate and not relevance.
Fun, or enjoyment, or something. But way down the list.